TOLL-FREE: 1-877-727-7387
INTERNATIONAL: 1-602-626-3022

The 2022 Silver Bull Market
Billionaires, hedge funds, central banks, and everyday investors like you are buying up gold and bitcoin at a record pace. But it's silver that outpaced gold in 2020. And it's silver that's been used as money for thousands of years… not bitcoin.
Join today's sophisticated investors rushing into silver. It's easy to do with Hard Assets Alliance. You can buy, hold, and sell physical silver 24/7 – from the comfort of your home.
Over 30,000 members and counting
*By submitting this form, you agree to receive email from the Hard Assets Alliance. Unsubscribe anytime. Disclaimer & Terms of Use
Why Silver? Because The Devaluation of the Dollar Continues
You may already be aware of the massive increase in the balance sheet of the federal reserve in the U.S.
But the U.S. is not alone
All this money printing in the U.S, Europe, and Japan could deliver gains in silver of 400%.
Check out this chart…
Central Banks Ballooning Balance Sheets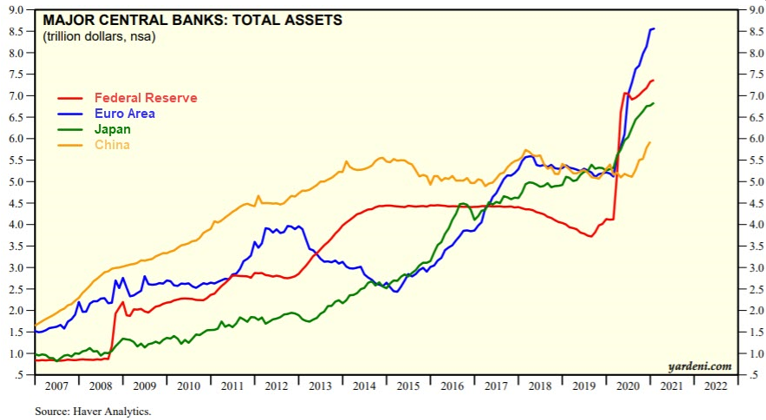 You see… it's not just the U.S. with a balance sheet that's skyrocketing. So is Europe, Japan, and China.
They're not done yet! The U.S has added another $1.9 trillion stimulus bill… with more likely to come soon.
So keep in mind it's not just the dollar that will be devalued when compared to silver.
All major currencies are being diluted!
Just imagine if investors in these other countries start panic buying silver to get out of their own fiat currency...
Silver is a very small market—so small, in fact, that a little money moving into or out of the industry can impact the price to a much greater degree than other assets (including gold).
In fact, silver recently rocketed up 7% in a single day due a small group of Reddit investors jumping into the silver market.
You might have heard this referred to as the "Silver Squeeze" in the media.
And it all happened in a matter of hours!
That's how quickly silver can move.
But this is nothing new...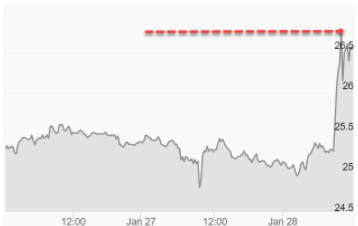 Silver Outperforms Gold In Bull Markets
Silver typically soars much further and faster than gold.
Here are a couple good examples…
Check out how much more silver gained than gold in the two biggest precious metals bull markets in the modern era:

You might say silver is gold on steroids!
Join today's sophisticated investors rushing into silver.
*By submitting this form, you agree to receive email from the Hard Assets Alliance. Unsubscribe anytime. Disclaimer & Terms of Use
We can expect this outperformance to repeat in the next silver bull market, too, because the silver industry remains tiny.

But this is only one side of the coin for what's in store for silver.
On the other side of the coin…
The U.S. Government Is about to Go "All in" on Green Energy.
Silver is used in just about every electric and electronic device you can imagine.
And with the rise in electric vehicles and the almost certain new wave of solar in the U.S. silver demand will continue to increase.
See that big jump from 2008 (when President Obama was elected). The next 4 years saw a huge spike in silver demand for solar.
Demand nearly quadrupled in President Obama's first 4 years in office.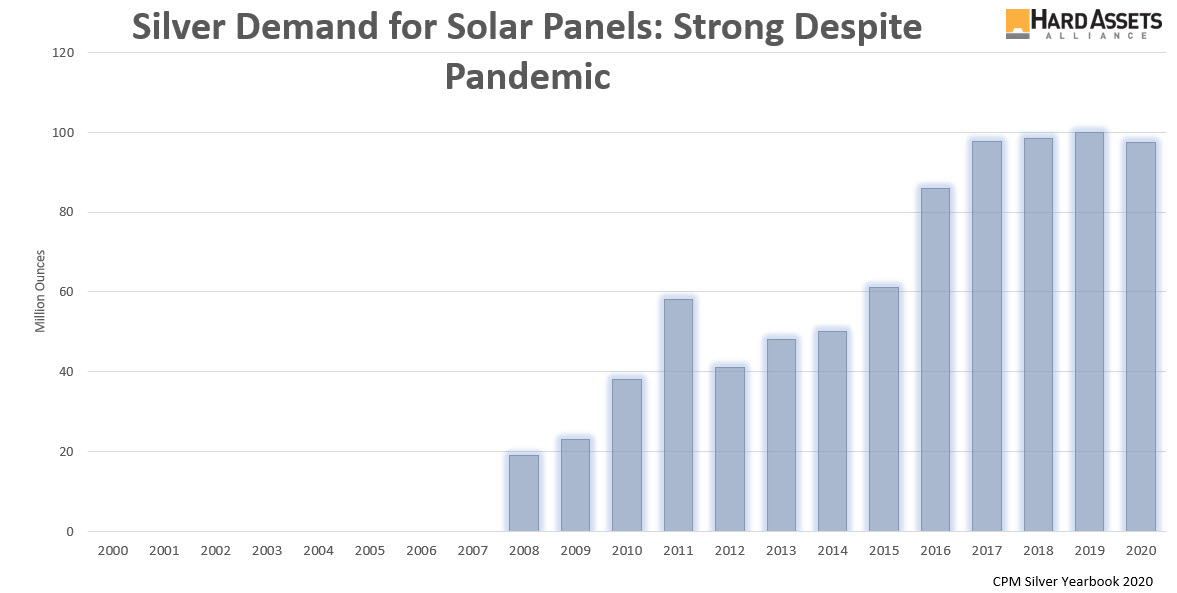 Also note that during Trump's term it was virtually flat, with no growth. The Biden administration is telling us this is about to change.
This is from John Kerry, at the White House press briefing in January 2021, "What President Biden wants to do is make sure those folks have better choices, that they have alternatives, that they can be the people to go to work to make the solar panels."
They and those folks John Kerry is referring to are all the oil and gas workers that will be out of jobs due to the Biden administration restricting the fossil fuel industry.
A change in energy policy like this is not even the biggest story here...
US Mint Silver Eagles Sales Double in 2020
Demand is off the charts for silver…
But while the mainstream financial news remains enamored with high-flying "meme stocks"... cryptos… and billionaire-funded SPACs… you won't hear about it: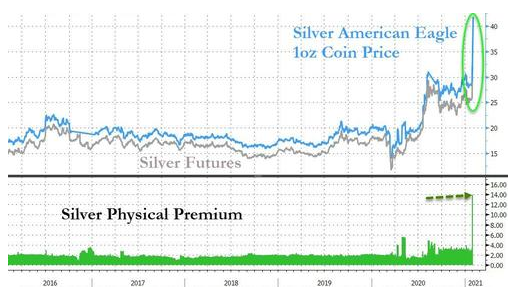 But make no mistake – people are quietly buying up U.S. Silver Eagles at record numbers.
In 2020 the U.S. Mint sold TWICE as many Silver Eagles as they did in 2019.
As Demand Goes Vertical… Supply is Shrinking
Long term, the biggest impact on the silver market could be the shrinking supply.
Why is supply shrinking?
First, mine production is down...
Not only that.
But scrap silver supply is down as well.
And recycling is more expensive than most people realize.
Which is why we could see…
A Silver Supply Problem… Soon
Now maybe you're thinking…
Governments around the world probably have a stockpile of silver right next to their gold.
Nope…
Remember… this is GLOBAL government stockpiles. Not just the U.S.
With what you've read so far, you know way more than most investors about the silver market.
This could be the most ignored and undervalued commodity in the world right now.
After all, silver has a 5,000-year track record of storing value. And unlike paper assets, it can't be made out of thin air.
That's why the world's wealthiest investors are expecting silver to go higher in 2021…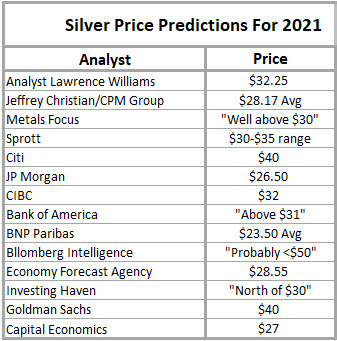 As you can see, some of the smartest investors are betting on silver prices to go higher. And if you want to get in before silver makes its next big move…
Hard Assets Alliance may be the ideal place for you.




Your New Standard in Silver
The Best of Both Worlds: True Ownership and Digital Access
With our easy-to-use online marketplace, you can buy, sell and trade real, physical silver with ease. And getting started is simple.
Open an account in minutes. Fund. And start investing, 24/7. Add to or sell some of your holdings any time, in a matter of seconds.
Hard Assets Alliance was started by investing professionals who saw the potential in gold and silver, but also the shortcomings of the precious metals industry – like how investing in precious metals should be as easy and secure as trading stocks and bonds.
We imagined a better, more transparent silver buying experience, then built it from the ground up – with total digital access and true ownership.
This is 100% real, physical metal.

Stored on your behalf in the world's most secure, third party vaults. Or delivered globally. All at your fingertips.
Over the past decade we've helped investors just like you protect and grow their wealth with silver.

Whether you're looking to better secure your retirement…

Diversify your portfolio...

Reduce volatility…

Or ensure a legacy for your family for generations…

Hard Assets Alliance has solutions tailored to every stage in your investment journey.

So get the protection and peace of mind that gold can give you.

Open an account today and see what makes us the new standard in silver.

*By submitting this form, you agree to receive email from the Hard Assets Alliance. Unsubscribe anytime. Disclaimer & Terms of Use
Put the Power of Silver in Your Portfolio
Nearly $2 billion of our customers' most precious assets under management
Open an account with Hard Assets Alliance and you'll get access to:
Easy, powerful platform trusted by many of the world's largest wealth managers

US and overseas vault options

Competitive online marketplace where wholesalers bid on every order

Secure non-bank owned vaults including Brinks, Loomis, and Malca-Amit

London Bullion Market Association-approved dealers

And these investor-friendly benefits:
Own whole fully-allocated bars and coins

No paper promises or small shares of giant bars you can never claim

Full replacement insurance on your stored gold, silver, platinum and palladium

No counterparty risk: You own the specific coins or bars you purchase

Unbroken chain of custody: Your bullion is documented and tracked

Regular audits by independent security firms

Around-the-clock surveillance with armed security personnel

State-of-the-art electronic protection of your assets and data

Some of the lowest fees in the market

Plus, flexible options for investing on your terms:
All metals are liquid – sell online in a matter of seconds

"Set and forget" automatic investing for dollar-cost averaging over time

Request physical home delivery of your metal at any time

Enjoy tax-advantaged investing with retirement account options

Give the gift of gold with ease with legacy accounts including trusts

Hold precious metals as a first-class company asset for your business

Hard Assets Alliance gives all investors, regardless of portfolio size or net worth, access to an institutional-class platform for buying and selling precious metals without needing to go through the hassles (or worry) of home storage.
Sign on, click, and manage your physical bullion assets holdings just like you would a stock brokerage account. It's that easy.
Ready to put the power of gold to work for you?
Join over 30,000 members of Hard Assets Alliance today
Questions? We're here to help.
Give us a call and we can walk you through the entire process, answer all your questions about account types, bullion, storage, and more. We're happy to serve you.
Past performance is no guarantee of future results. Any historical returns, expected returns, or probability projections may not reflect actual future performance. All investments, including precious metals, involve risk and may result in partial or total loss.
No conclusion of any type or kind should be drawn regarding the future performance of investments offered or managed by us based upon the information presented herein. Performance information presented has been prepared internally (unless otherwise noted) and has not been audited or verified by a third party. Information on this page is based on information available to us as of the date of posting and we do not represent that it is accurate, complete or up to date. See our complete disclaimers for additional details.